Criminal Defense Attorney
DAVID H. MOYSE
FOUNDING PARTNER
Since forming Jezic & Moyse as a founding partner in 2008, Rockville Criminal defense lawyer David H. Moyse has received several notable recognitions, including being named to SuperLawyers since 2013, and the Washingtonian magazine's Top Lawyers list in 2017, 2018, 2020 and 2022. Mr. Moyse currently serves as co-chair of the Montgomery County Bar Association's Criminal Law Section. He has received nearly 100 percent of glowing reviews from clients.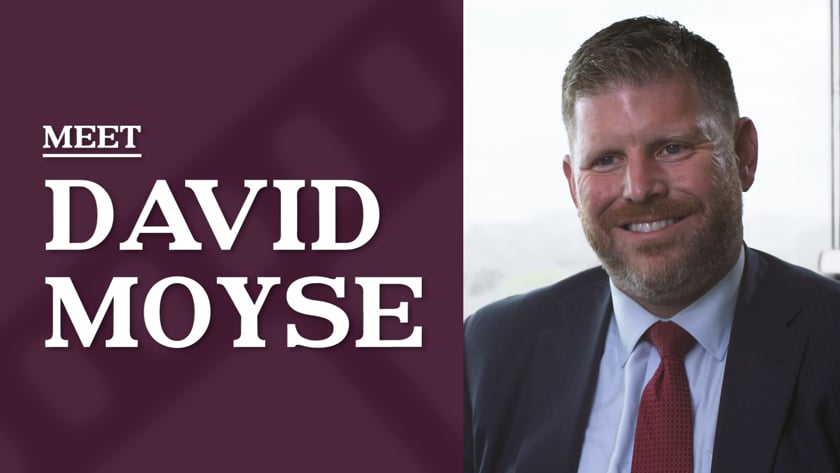 As a criminal lawyer, David Moyse obtained a complete acquittal from a jury in a Murder trial in Montgomery County in 2022.   And just weeks before, Mr.  Moyse achieved a complete acquittal in another homicide jury trial.
In 2023, Mr. Moyse obtained a surprising and complete acquittal of all handgun and assault charges by a jury in Prince George's County. In 2023, Mr. Moyse obtained a complete jury acquittal in a second degree rape trial in Montgomery County.
Mr. Moyse obtained a complete acquittal from a jury in a high-profile First Degree Rape in Montgomery County in July, 2010. In January of 2010, Mr. Moyse and Mr. Jezic, in a jury trial in Prince Georges County, convinced the prosecutor to do something very rare: to dismiss all charges in an Armed Robbery case after the defense cross-examination of the two main State witnesses, who had positively identified the defendant in court. (Article 1), (Article 2).
In April of 2010, Maryland criminal lawyers Mr. Moyse and Mr. Jezic obtained a nearly complete acquittal from a Montgomery County jury in the high profile prosecution of a former Maryland State Trooper who was accused of a sex offense while on duty (Article). In May of 2010, Mr Moyse and Mr. Jezic achieved an acquittal from a Montgomery County jury of all felony charges in a Manslaughter case. (Article)
In 2011, David was co-counsel on a five-day jury trial in Montgomery County where the jury found the defendant not guilty of all counts of sexual assault despite a videotaped confession being played to the jury. Read article.
In 2012, criminal defense lawyer David Moyse continued to enjoy success in jury trials, earning a complete acquittal in a two-day robbery trial, and then convincing a jury to completely acquit his client of DWI/DUI despite the client blowing a BAC over the legal limit of 0.08.
Criminal defense lawyer David Moyse continued his success in the courtroom in 2013, obtaining a complete acquittal for a man accused of sexual assault. The jury was so persuaded by Moyse's closing argument, that they returned a not guilty verdict in only 15 minutes.
In December 2014, Mr. Moyse obtained a complete acquittal for his client, an Honorably Discharged Marine, who had been accused of breaking into a police officer's home and holding him at gunpoint. The police officer swore under oath that Moyse's client had stolen his gun and pointed it in his face. The officer had also called 911 to report being held at gun point. Moyse used the police officer's prior testimony and 911 call to highlight inconsistencies and convince the jury to find his client not guilty on all charges.
"Had a DUI case that on going for about a year and a half due to Covid but finally got a return date recently. Attorney David Moyse was representing me and did a amazing job at fighting the case and did everything in his power to beat the case which is exactly what he did and the case was thrown out! I HIGHLY RECOMMEND!" - Alex Nguyen
"I commend and recommend, without reservation and with the strongest possible endorsement, the outstanding legal services of the firm of Jezic & Moyse.  Mr.  David Moyse was my personal representative in an unfortunate legal situation involving a family member.  From the initiation of our relationship as client and counsel, I found Mr. Moyse to be thoroughly professional with an exceptionally high degree of understanding of the issue and applicable body of law germane to my case.  He quickly grasped the gravity of my issue and moved rapidly and aggressively to engage the legal system on my behalf.  He communicated with me regularly, something I valued greatly, while maintaining a consistent assessment that we would win the case if taken to trial.  Mr. Moyse adroitly maneuvered my position as the defendant in such a manner that my family member petitioned the States' Attorney to withdraw her complaint.  The case was closed nolle prosequi and I feel vindicated and relieved." - Blane Clark
"David Moyse is an extremely knowledgeable and strategic attorney. Dedicated to helping others, he always takes the time to answer questions or give sound advice to alleviate any concerns. I highly recommend him for those in need of criminal defense support for themselves or their loved ones." - Thaolan Le
" In the middle of the night I was served by Montgomery County Sheriff with an interim protective order which had several pages/statements and even mentioned I have access to firearms. How the "interim protective order" appeared on the public case search was my name, followed by "DOMESTIC VIOLENCE". I was told by a friend of my family to reach out to Dave Moyse at Jezic & Moyse, LLC. Before I knew I wanted representation, Dave was happy to speak to me and answer any questions I had, including consultation for the pretrial which had a fast approaching date due to the nature of the allegations. Mr. Moyse was professional, comforting and an honor to be represented by. He was effective in calming me down and that was the most important thing for me as trial was approaching. Throughout the whole process, Dave was extremely responsive to my texts. Dave Moyse was able to secure an agreement with the plaintiff to dismiss the order. Shortly thereafter he was able to clear my name from public view. I am thankful for Dave Moyse and god forbid I find myself in need of representation again, I will not hesitate to reach out to Dave." - Michael Stopher
"I highly recommend Mr. Moyse when you are looking for a defense attorney for  traffic or  criminal cases. I have good results for my loved ones when he tried to solve the  cases.  Mr. David Moyse is the best attorney in this field.
You're such a brilliant attorney . I am so grateful for your passion, dedication, and professionalism. I've hired lawyers before, but you are truly the best I've ever worked with. Thank you so much!" - Allison Win
"David was very upfront and honest with me about my case. He offered advice and comfort during an overwhelming time. He was also very responsive. This firm is trustworthy and cares about their clients". – Denisha
"I'm so proud to have had David Moyse as my council! Through my journey he was nothing but patient and empathic and never once did he make me or my family feel unheard or doubtful in his abilities. At times when I felt defeated or like giving up, he would not allow it. No matter the question or time of day David makes sure to make you feel prioritized as if he doesn't even have other clients. I truly admire his dedication and relentlessness and I am forever grateful for his services". – B
"Attorney Moyse is probably the best Attorney in Maryland and in northeastern United States region. I can boldly say in the United States because before I met him, I met with others from different states like Texas and New York who said the case was too complicated with a lot of risks. In the process one of the lawyers boldly told me my case would take me to jail. I didn't have enough evidence to defend myself. After a year, I [was referred by an] Attorney in Maryland who gave me the name of Attorney Moyse, his address, phone number and told me that he would be able to handle the issue successfully, and he did.
Attorney Moyse is a super expert; he is committed to great service. He knows how to dig to the root of the problem and let the truth come out on it own. I didn't have to go to the court room for my case. More importantly, he allowed me to do zoom conference with the Judge from his office.
At their office I felt valued, my problem was resolved, and all my questions were answered; he is friendly and easy to work with; Everyone in his office is kind to customers and the atmosphere is awesome. I now have a happy family". – Hilaire
"Where do I start !!! I have been working with David Moyse since I was 18 years old, he has help me with some bad choices I have made, this man is the true definition of get it done, professional, honest, & passionate. I thank God for putting him in my life. He's helped me and many family and friends I have recommended and believe me they always thank me for the good recommendation from the heart. Now I'm on the right path I have my own business and recently helped me expunge my record. Now I'm getting more job opportunities. I can say David Moyse help me be here where I am today . I will recommended Jezic & Moyse in any criminal or traffic case you have if you want to win your case hands down". - Newlynn
"David Moyse is the best attorney. I highly recommend him. When I felt like there is no way out of my situation, David reassured that everything would be fine. His knowledge and devotion to duty were the essential pieces to this jigsaw puzzle that made me see the BIG PICTURE. He was right!!! Thank you, David!!" - Widadi Julien
Mr. Moyse is licensed to practice criminal law in Maryland and is a member of the Maryland Association for Justice, Montgomery County Bar Association, Maryland Criminal Defense Attorneys Association and Maryland State Bar Association.
Moyse also practices in the areas of civil litigation and domestic affairs, representing clients in personal injury and medical malpractice cases, as well as divorce and custody disputes.
Mr. Moyse received his J.D. from the Catholic University of America, Columbus School of Law, where he was an Archbishop Fellowship Scholar and graduated cum laude. While in law school, he served as an Associate Editor for the Journal of Contemporary Health Law & Policy, publishing a comment of changes to Medicare funding in 2006. He earned his B.S. in Business Administration and Finance from the American University in Washington, D.C.
You may email Mr. Moyse at David.Moyse@Jezicfirm.com or call him in the office at 240-292-7200.